Všetko sa začalo, keď som mal 25. narodeniny. Bol som 2 roky po vysokej škole, mal som dobre platenú prácu, v ktorej som sa vypracoval na team lídra a plával som si životom úplne v pohodke, chodil som po dovolenkách, stretával sa s kamošmi na pive a občas som si aj zacvičil. V tom čase hlavne capoeiru.
Prišiel ale zlom, a keďže som si v mladosti povedal, že budem podnikať (ako môj otec) a nebude platiť hypotéku celý život, rozhodol som sa prejsť do aktívneho módu.
Robert G. Allen – Multiple streams of income
Kamarát mi odporučil knihu Multiple streams of Income, teda Viac zdrojov príjmu. Je veľmi zvláštne, že keď človek o tom následne premýšla, príde mu vytváranie viac zdrojov príjmu veľmi rozumné. Dovtedy som sa však nad tým veľmi nezamýšlam a predpokladám, že tak ani väčšina ľudí.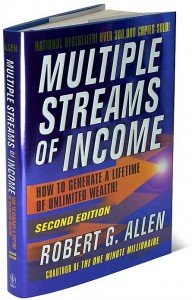 Ešte zvláštnejšie mi pripadá, že keď sa o tom bavím so svojimi spolužiakmi z vysokej školy, ktorí klasicky zapadli v niektorej väčšej či menšej firme, pripadá im zvláštne, prečo pracujem na viacerých veciach / projektoch. Rozmýšľal som, prečo takto uvažujú a došiel som k záveru, že pravdepodobne nepočítajú s možnosťou, že by zo svojho zamestnania nedostali každý mesiac peniaze. Takýto postoj vydrží asi len do chvíle, kedy sa tak prvý raz stane.
Nie že by som im prial niečo zlé, ale väčšinou si bežný človek uvedomí potrebu zmeny až v krajnom prípade. Sám som podobne niekedy uvažoval, preto sa viem vcítit do ich kože.
Čo mi táto kniha priniesla?
Hlavne mi rozšírila obzor, že je dnes možné vytvoriť viac zdrojov príjmu, ktoré môžu fungovať (takmer) automaticky. Nepoznám v histórií lepšie obdobie na vytvorenie viacerých zdrojov príjmu ako je dnes. Popísanie jednotlivých možností je mimo rozsah tohoto článku, môžete si prečítať môj článok www.pavelsvitek.com/7-sposobov-ako-vybudovat-pasivny-prijem/.
Momentálne mám 4 rôzne príjmu, niektoré už iba pasívne, niektoré aktívne rozvíjam a pracujem na nich. Nevidím dôvod, prečo takúto stratégiu nerozvíjať, keď funguje.
Tim Ferris – 4 hodinový pracovný týždeň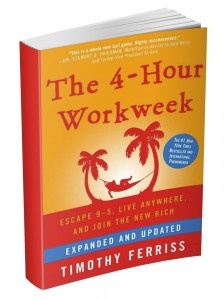 O tejto knihe už bolo napísané veľa a pravdepodobne ju mnohí z vás aj budú poznať, ale väčšina ľudí nakoniec nevyužje ani zlomok jej potenciálu. Túto skutočnosť spôsobujú 2 hlavné "problémy":
1) Ľudia síce čítajú a snažia sa vzdelať, ale chýba im AKCIA
Tejto téme sa na svojom blogu venoval aj Peter Dendis v článku Načo strácať čas so vzdelávaním sa. V skratke jednoducho treba aplikovať vedomosti / princípy, ktoré ste sa v knihe naučili. Ak ste knihu prečítali povedzme za 2 týždne, tak by ste mali min. 2 mesiace trénovať dané skills a aplikovať ich v živote. Inak te len marili čas
2) Ľudia neveria, že by mohli pracovať iba 4 hodiny týždenne
A to napr. u mňa ani nebolo cieľom! Kniha mi opäť rozšírila obozory hlavne nekonvenčným prístupom riešenia bežných problémov, čo sa nakoniec stalo aj mojim mottom. Ohromne ma ohúrila vedomosť o tzv. Virtuálnych asistentkách outsoursovaných z chudobnejších častí sveta či princíp "earn in dollars, have expenses in pessos".
Povedzme, že vytvoríte Systém (konkrétne príklady v knihe), ktorý vám prinesie 500 EUR mesačne. Nehovorím, že to musí byť pasívne, môžete sa takémuto podnikaniu venovať kľudne aj 30-40 hodín týždenne. Prežiť z 500 EUR povedzme v Bratislave nie je žiadna sláva. A teraz si predstavte, že nežijete na Slovensku, ale na pobreží v Thajsku. Za 500 EUR si môžete dovoliť prenajať dom s krásnou záhradou a ešte vám ostanú peniaze na veľmi pohodlný život.
Toto je príklad uvažovania, ktorý mi priniesla táto kniha.
Ak robíte rovnaké kroky ako dav, skončíte ako priemerný človek v dave.
Pre každého z vás bude tento výrok znamenať úplne niečo iné. Pre mňa je motiváciou, aby som robil veci nekonvenčne, aby som mohol tráviť viac času s mojou priateľkou a priateľmi, s mojimi deťmi, keď budú vyrastať a viac si úžívať život, nie ho iba prežívať ako mnoho ľudí.
Prajem vám všetko dobré.